As a CPD Accredited Speaker my business presentations, lectures and workshops
add real value - to the benefit of your delegates, employees and students.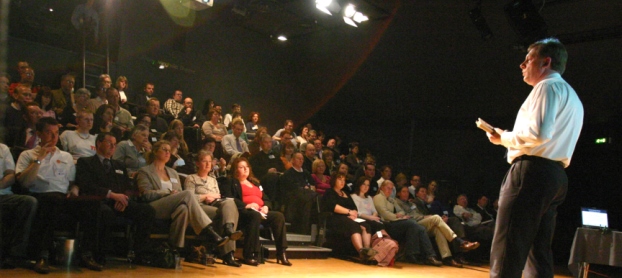 Uniquely practical, motivational and educational lectures & workshop presentations with the added value of a CPD Speaker.
Every year I present my Practical Insights and Key Lessons for Better Business to thousands of people across the UK, Mainland Europe and North America, from those attending conferences and business events to students within academic institutions and teams within a business.
My presentations and workshops are unique. With practical, motivational and often thought-provoking content that can be easily tailored by me to suit any audience, business need or session duration - ensuring the message adds value, is on target, relevant and fully engaging for any audience.
My CPD Accreditation as a Speaker adds further value to this, making my presentations, lectures and workshops a perfect addition for:
Associations adding high-value, motivational and practical content for their members at conferences, member events and through educational workshop presentations.
Universities and Colleges looking to add a 'real-world' perspective and recognised CPD accredited content to new and existing business course programmes.
Companies reflecting the investment and value they place in their staff at team events, conferences and in-house workshops - helping to deliver strategic vision, overcome business barriers and meet new challenges across their teams and organisation.
My presentation and workshop topics
I focus on the practical, key elements and often overlooked fundamentals that underpin successful business development and drive sustainable success. My popular presentation and workshop topics include:
'Turning Customers into Gold' - Practical lessons for better business, that you can use for immediate effect - helping you to outsell, outmarket and outperform the competition.
'Why are we in business?' - At a time when individual companies and whole industries are forced to rethink why they are in business, I explore the real reason for any business.
'Business Success in the Age of Less' - Simple to implement strategies and plans that make a real and sustainable difference to any company's bottom line in these uncertain times.
All of my presentations, lectures and seminars use 'real-life' examples and case studies that work to challenge the myths and conventions that inhibit many from taking full advantage of the real opportunity that exists in these economically uncertain and increasingly competitive times.
Unlocking potential and enabling all those present to deliver greater success and outstanding results - irrespective of their industry sector and organisation size. An approach also reflected in my important work as a business mentor and writer.